Sometimes a server crash or a network problem can corrupt the Plan-IT database. The reindex program that is provided with Plan-IT can fix these corruptions in most situations.
Close Plan-IT
Before you can start the reindex program, all users on all establishments need to close Plan-IT. You also need to close all connections with Plan-IT and the background tasks, like the Autoline ODBC connection, Incadea Statuses, Exports and Import tasks, etc. The Reindex program needs exclusive rightson the Plan-IT database.
Perform reindex
Follow below steps to start the program:
Open a Windows Explorer window (Windows key

+ E).
Navigate to the

Plan-ITPrograms

folder.
Double click on the

reindex.exe

file to start the program.
When you see the below error message, there are still users that have not closed Plan-IT yet or there are proceseses that keep Plan-IT files occupied: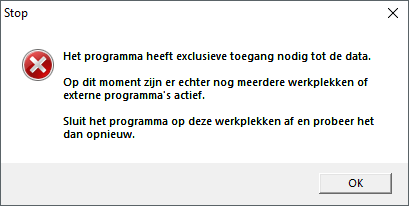 When the program does get all rights that it needs, you will see a window with all active establishments and a customer option:
When you have problems in a specific establishment, select it by clicking on it. The establishment turns blue. Then click on the Reindex button. All databases of this establishment are being checked. This can take a while!
The reindex program will automatically try to track and fix errors in the database. In most cases this will succeed. When everything went fine, you will see a message that the reindexing was finished succesfully:
Click on the OK button to close the window. You can now start Plan-IT again.
Not succesful
When the program can not solve the errors, you will see a message that bad records have been found. Please contact us if that is the case. We will perform the database repair for you then. You can reach us by phone via the number 0031 478-585457.